Art and Public Art on
Route 66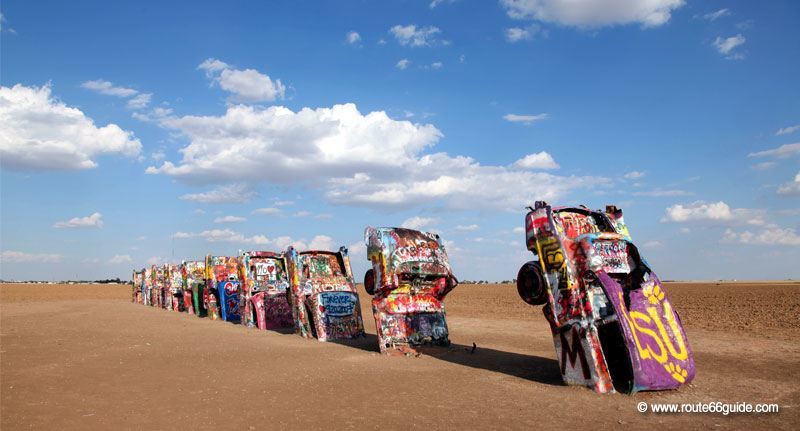 Above: Cadillac Ranch in Amarillo, Texas.
Route 66 is regularly lined by works of art, some of them truly outlandish and spectacular. Sometimes, visitors are encouraged to interact.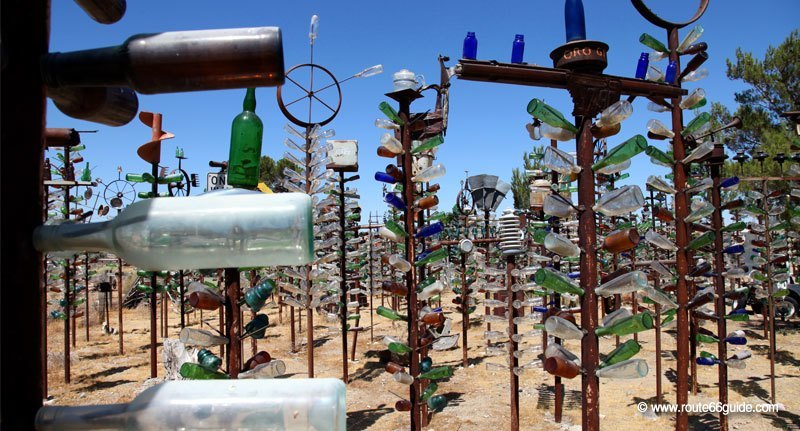 Above: Helendale, California. The Bottle Tree Ranch features hundreds of glass bottles that the artist's father recovered along Route 66 decades ago. It can be observed from the road but this private property is not open to the public.
Without a doubt, the icon of this movement is the 10 car group nose-driven into the soil of the Cadillac Ranch in Amarillo, Texas. Directly on Route 66, the site is freely accessible for by simply pushing open a gate leading onto a vast desert field. The originality of the concept lies in the colorful participation of everyone, invited to tag the vehicles that are regularly repainted.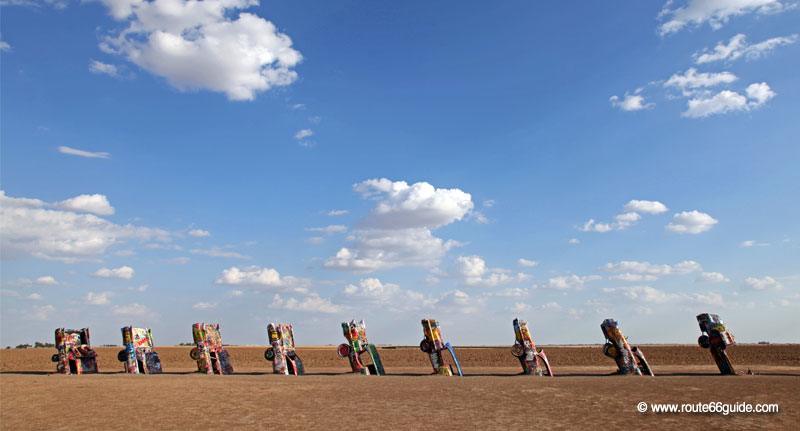 Above: Amarillo, Texas. Cadillac Ranch.
On Route 66, multiple replicas of the Cadillac Ranch, often humorous, honor the work of Stanley Marsh 3. At Henry's Rabbit Ranch in Staunton, Illinois - a paradise for rabbits lovingly cared for by Rich, the exuberant site owner - Cadillacs are replaced by old VW Golfs (pretty much the only ones you'll see on the road ...) while at Conway, Texas, only a few miles from the actual Cadillac Ranch, old VW Beetles have been lined up with their nose driven into the ground, doors open, like crashed insects.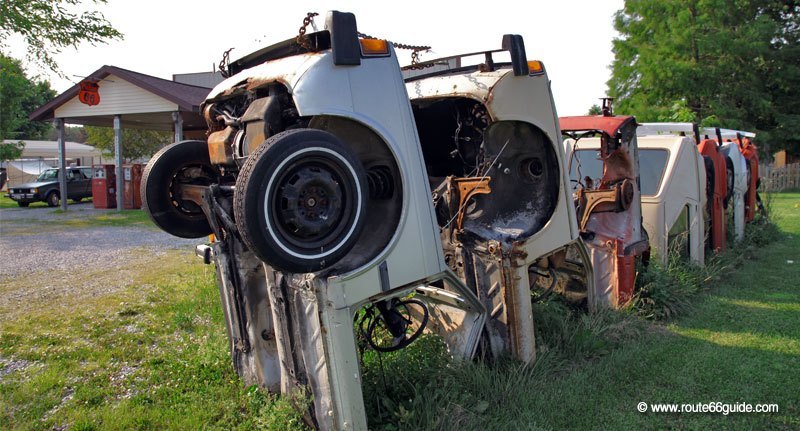 Above: Staunton, Illinois. Henry's Rabbit Ranch. VW Golf interpretation of Cadillac Ranch.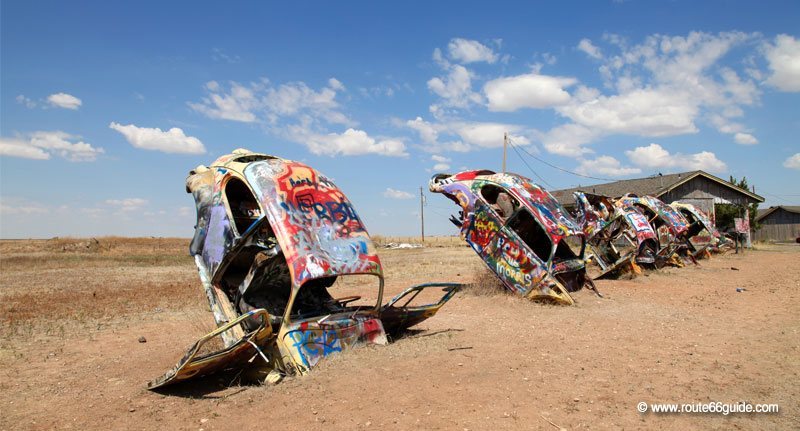 Above: Conway, Texas. Bug Ranch. VW Beetle interpretation of Cadillac Ranch.
Other smaller initiatives mark the legendary route, including the amazing Shoe Trees, their branches laden with the most diverse pairs of shoes and occasionally more exotic items such as underwear - allegedly the former property of worldwide travelers.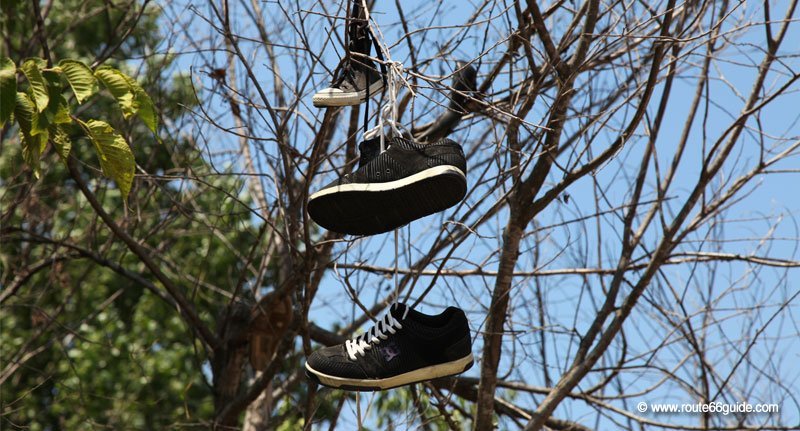 Above: Shoe Tree Trading Post in Stroud, Oklahoma.
Near Chelsea, Oklahoma, another disproportionate work of art rises slightly off Route 66. The Totem Pole Park was developed by the woodcarver Ed Galloway from Missouri, who devoted his retirement to this remarkable task. A flagship attraction on Route 66, since 1948 the park boasts the highest totem in the world (over 90 feet). The site is free, open to the public and a small souvenir shop helps maintain the site which was completely restored in the 1990s.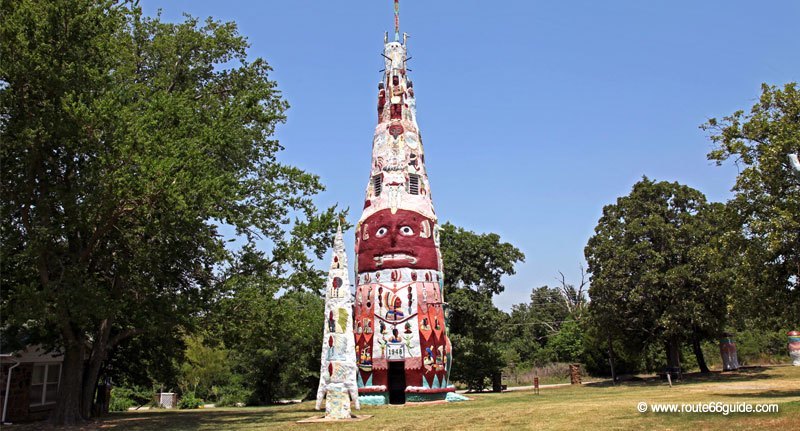 Above: Totem Pole Park in Foyil (Chelsea), Oklahoma.