Route 66

: Cars, motorcycles, gas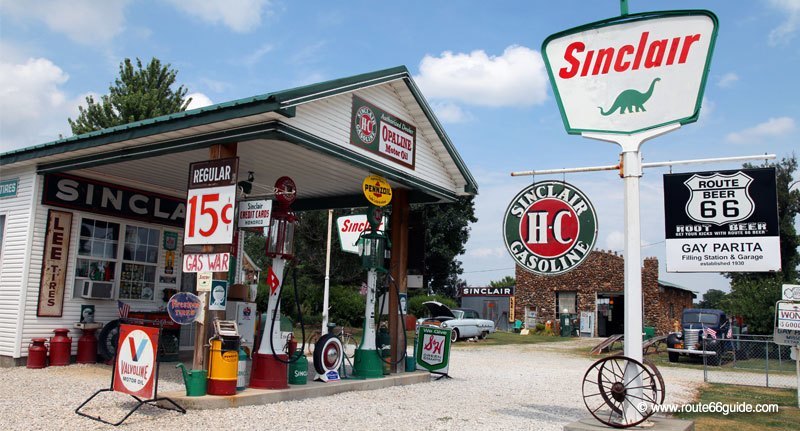 Above: Sinclair station in Paris Springs, Missouri.
Route 66, obviously designed from the ground up for cars, saw the early days of automobiles and was entirely devoted to them. With the exception of a few tight turns - with evocative names like "Dead Man's Curve" in Towanda Illinois, complicated mountain passes - that we can easily bypass - and slow yet pleasant downtown sections, its alignment is generally enjoyable.
By the roadside, a host of restaurants, motels, souvenir shops, tourist attractions, have flourished and racked their brains for decades to become more accessible to motorists: drive-thrus, motels with parking spaces right across the room, road restaurants with XL parking lots, and gas stations all over the place.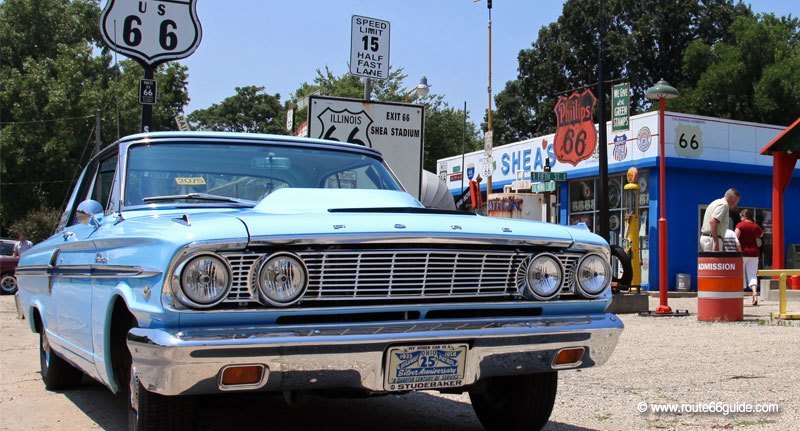 Above: Shea's Gas Station in Springfield, Illinois.
While many of these establishments have disappeared today, a sizable number still remain operational and maintain the road hospitality tradition, a hallmark of Route 66.
A myth associated with
Harley-Davidson
Obviously bikes - and Harley Davidson in particular - are inseparable from the myth of Route 66, especially popularized by the movie "Easy Rider", which was shot in the late 1960s, between Flagstaff, Arizona and Santa Monica, California. There are numerous specialized points of sale, lease and repair along the way and, during the summer, Route 66 sees endless biking groups and associations on its path.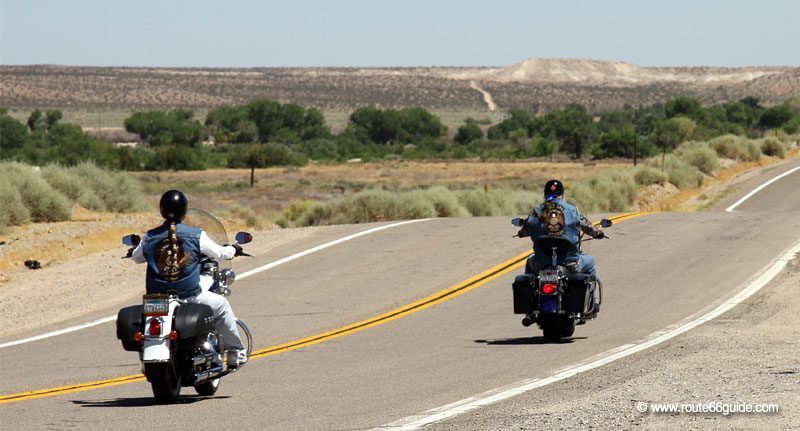 Above: Historic Route 66 in California.
Several institutions have become - or remain - popular biker relays... where motorists are generally welcome! For example, the very bucolic Elbow Inn & BBQ Pit, in the woods before the enigmatic Devil's Elbow Bridge, whose morning mist caused several fatal accidents as Route 66 straddled it.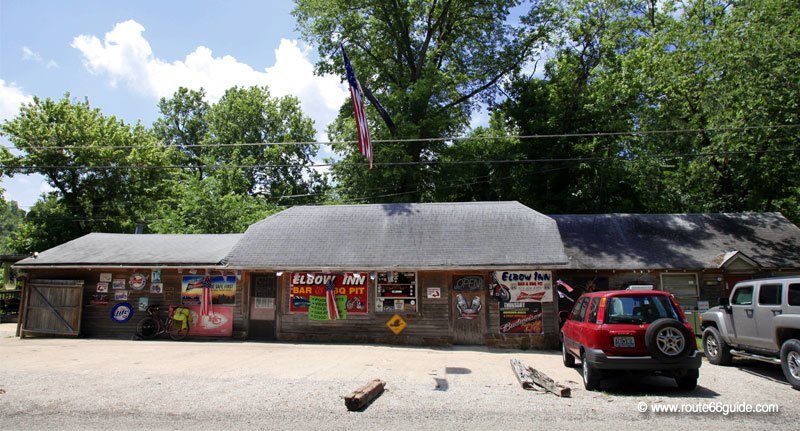 Above: Elbow Inn & BBQ Pit, between Waynesville and Rolla, Missouri. Isolated in the forest, on the old track of the now deserted Route 66, which then follows on to "Devil's Elbow Bridge", the restaurant-bar has become a popular bikers' spot.
A truckers' road
You will quickly notice that Route 66 was - and still is in some areas - a truckers' road, although these tow excessive convoys at times - for example, entire pre-assembled houses.
In the years following the inauguration of Route 66, truckers were largely responsible for the traffic explosion, drawn by the relatively flat profile of the new road. By the roadside, many relays were especially built to host the new travelers. These found generous meals, gas, and sometimes showers and rooms.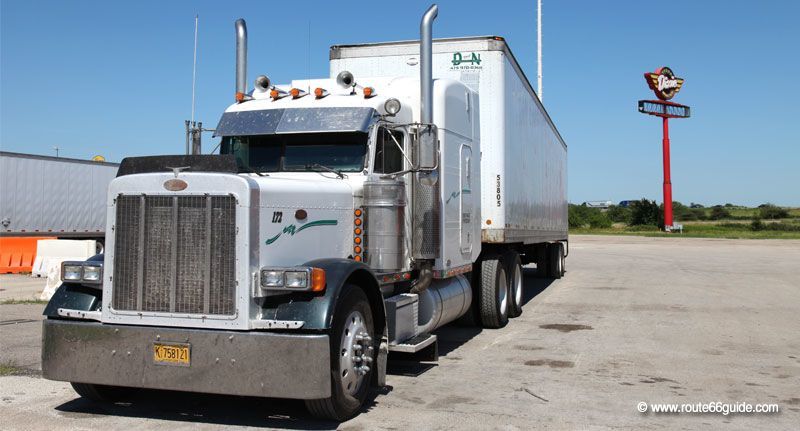 Above: Route 66 Dixie Travel Plaza in McLean, Illinois. This gigantic truck stop is a must for truckers who enjoy, today as before, ample parking and a large dining room with many tables, around an affordable buffet. The Dixie escaped demolition thanks to its strategic location near the Interstate. The building restoration, however, in hyper-modern style, may appear somewhat cold and soulless to some.
Today, a few of these relays still survive along Route 66. They typically offer affordable, generous and tasty menus.