Route 66: links directory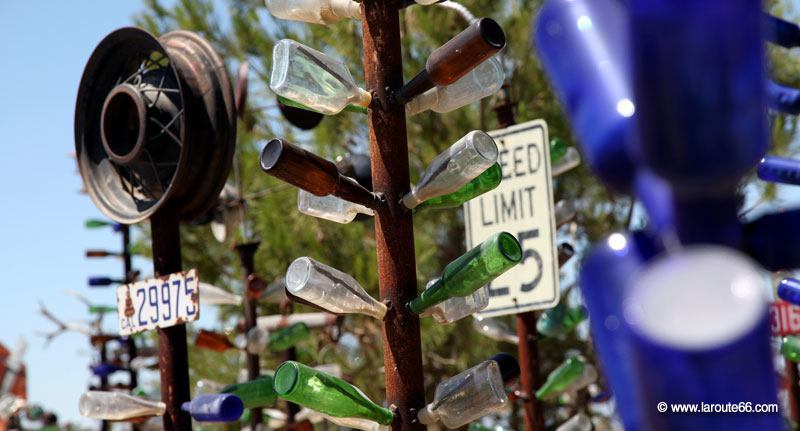 Above: Elmer's Bottle Tree Ranch, between Helendale and Oro Grande in California.
Mapped route of
Route 66

in eight states
A must-have! The site of this Route 66 enthusiast, whose father owned a motel by the roadside, in Ash Fork, Arizona, proposes to follow virtually each alignment on the Route, distinguishing sections from 1920-1930, 1930-1940, 1940-1950, as well as the most recent ones. He also notes other sections (Interstates and other roads) where the 66 no longer exists. In short, a real gem, well done, and for free: http://route66map.publishpath.com/google-map
Route 66

, characters, historians
Michael Wallis
Journalist and historian, Michael Wallis is a reference and an inexhaustible source of historical anecdotes on Route 66. He closely supervised the making of Disney's / Pixar's movie "Cars", even lending his voice to the sheriff.
His book, "Route 66: The Mother Road" (St. Martin's Press, 1990) is a historical book of reference. Wallis is the author of many books, particularly in relation to Route 66, including: "Songdog Diary: 66 Stories From the Road"( Council Oak Books, 1996), "Hogs on Route 66" (Council Oak Books, 2004)", "The Art of Cars", in relation to Disney / Pixar's movie "Cars" (Chronocle Books, 2006).
Wallis also wrote "The Lincoln Highway: Coast to Coast from Times Square to the Golden Gate" (WW Norton & Company, 2007), a book about the ancestor of Route 66, the Lincoln Highway, which connected New York to San Francisco.
Michael Wallis's website: www.michaelwallis.com
Jerry McClanahan
This artist native of Oklahoma is also among the most knowledgeable historians on Route 66. He has produced numerous reference books on the Mother Road, with the inevitable "EZ66 Guide for Travelers" including accurate maps alongside indications of detailed directions, short descriptions, and black and white drawings of a few sights along the road.
We also owe him the 8-card series "Here It Is! The Route 66 Map Series", which exactly traces Route 66 in the eight U.S. states on its path (with Jim Ross), as well as the beautiful photography book "Route 66 Sightings" (with Jim Ross and Shellee Graham).
His website lists many valuable updates to his bestselling guide "EZ66 Guide": www.mcjerry66.com
National Historic Route 66 Federation
http://www.national66.org

National Park Service, Route 66
http://www.nps.gov/nr/travel/route66

Maps and turn-by-turn road description
http://www.historic66.com