Route 66

Restaurants, Diners and Soda Fountains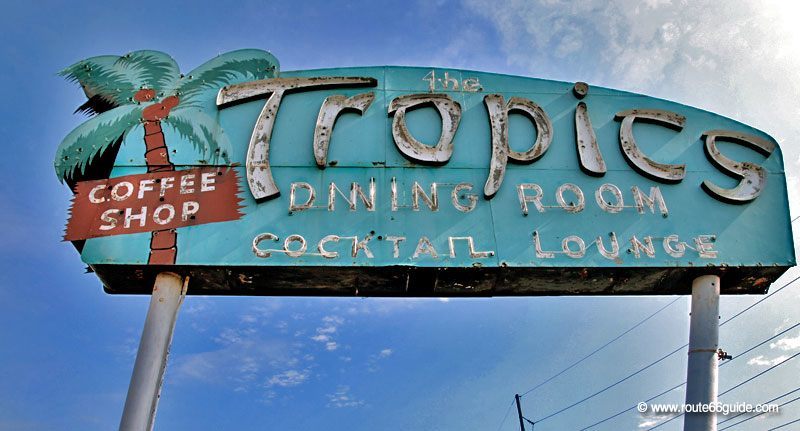 Above: The Tropics cocktail lounge in Lincoln, Illinois.
Restaurants abound Near Route 66. In most cases, they are family-managed establishments; mom, dad and the kids, working hard right out of school, in these "mom-and-pop businesses", which still seem unassailable by large fast-food chains.
In fierce competition, they drew travelers in with increasingly creative solutions: giant panels atop the establishment, flashing neon signs at night, attractive and humorous slogans ("the ugly crust pies" at Midpoint Cafe in Adrian, Texas for example!) ...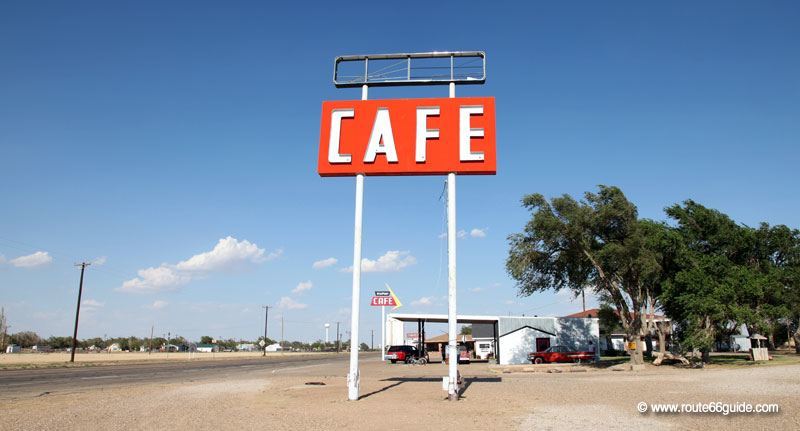 Above: Midpoint Cafe. Adrian, Texas. Its slogan, "The ugly crust pies", along with its strategic location, exactly halfway on Route 66, made it famous.
At "Big Texan Steak Ranch" in Amarillo Texas, the 72 oz. steak is free if eaten in one hour (with Shrimp Cocktail, Baked Potato, Salad, Roll and butter).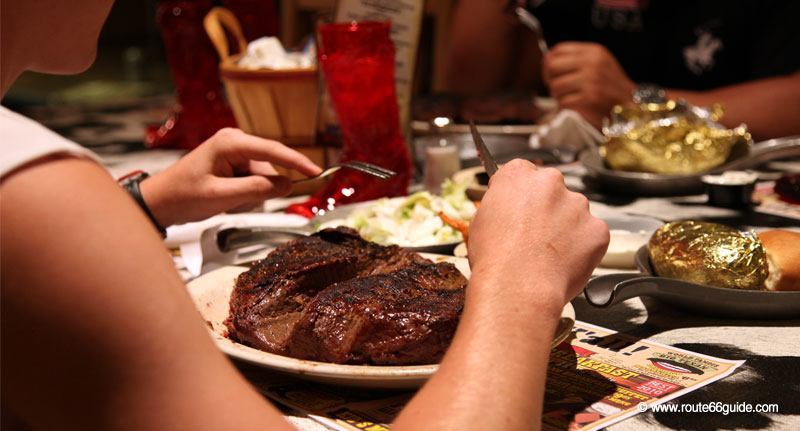 Above: Amarillo, Texas. Big Texan Steak Ranch. This 72 oz. steak is free if consumed in less than 60 minutes. Otherwise, you will be charged $70!
Marketing creativity explodes along Route 66 and new restaurant concepts are invented here. Soda fountains, drive-thru's, truck stops, "round the clock service" and the first restaurant of a would-be chain named "McDonald's" in San Bernardino, California ...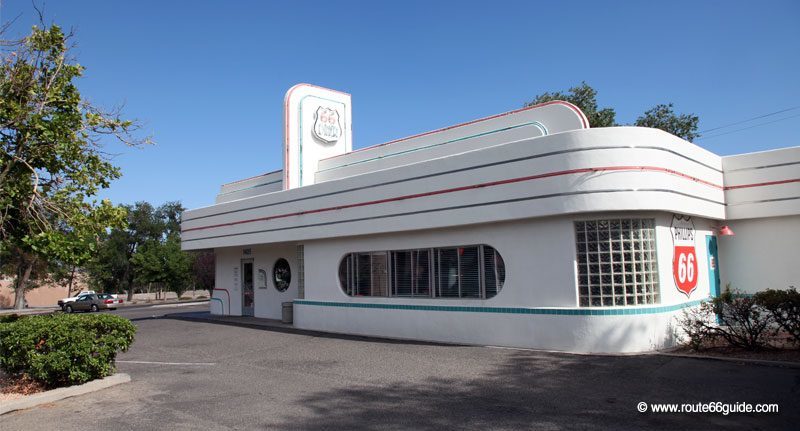 Above: Albuquerque, New Mexico. The "66 Diner" and its "streamline" architectural style, emblematic of the 1940s, is one of the most beautiful diners along Route 66. It hosts New Mexico's Route 66 Association.
Soda fountains
True Route 66 icons from 1940 to 1960, soda fountains spring up everywhere near the mythical route. These establishments are notably favored by children, who choose ice and soda flavors to be mixed behind the counter.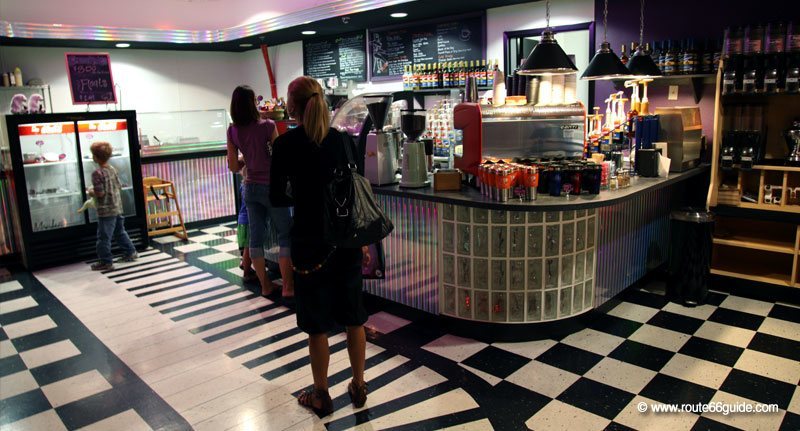 Above: Route 66 Museum. Lebanon, Missouri. Reconstruction of a soda fountain of the 50s.
Today, few soda fountains have survived the transcontinental route decommissioning, and even fewer continue to manufacture their own soda. At Webb City, Missouri, we love the vintage ambiance of the old-fashioned soda fountain "Bradbury Bishop Deli and Diner Route 66", run by a lady truly passionate about the establishment she has seen develop over time. In fact, she worked there before buying the property on the verge of closing and saving it from oblivion.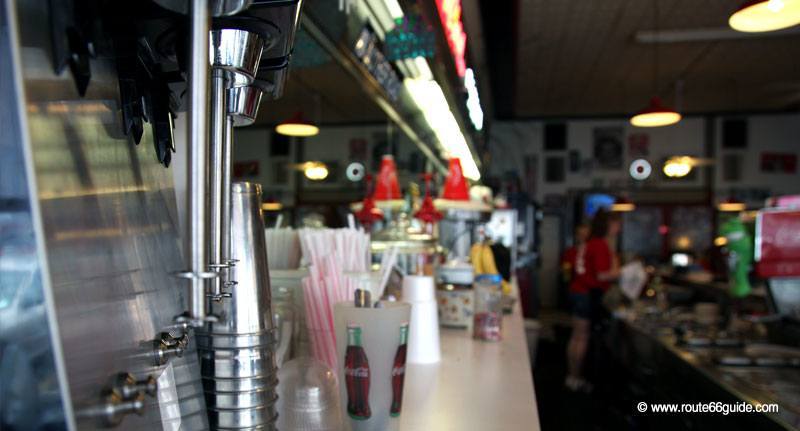 Above: Bradbury Bishop Deli and Route 66 Diner. Webb City, Missouri.
Invention of the Drive-thru
To attract motorists and help them save time, the "Maid Rite Sandwich Shop" in Springfield, the capital of Illinois, invented the drive-thru concept by opening the first restaurant of this sort in 1924. For the first time, drivers were handed the food through a window without ever leaving their car seats. By removing the dining room service, the place saved space, time, and took down its headcount. The idea became wildly successful and was immediately picked up by a multitude of establishments, among others, the big fast food names.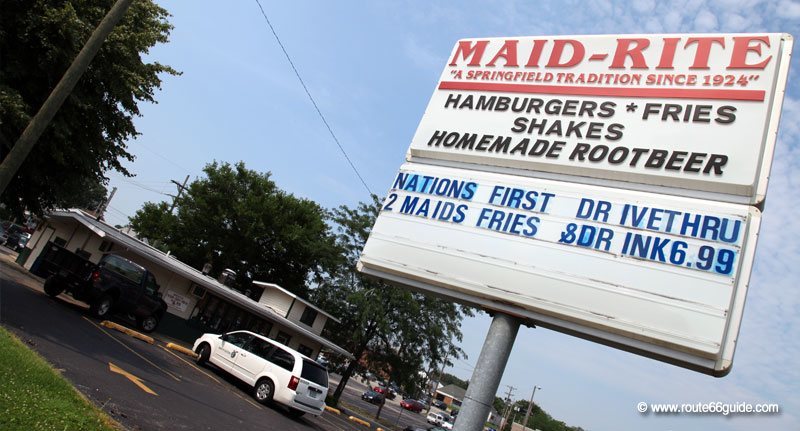 Above: Maid Rite Sandwich Shop, Springfield, Illinois. Behind the giant billboard on which the Maid Rite claims to be the first drive-thru of the nation, the typical small shack standing along Route 66 since 1924.
The Maid-Rite Sandwich Shop in Springfield proclaims its historical specificity in giant letters across the small building: "A Springfield Tradition since 1924. Nations First Drive Thru!". Maid-Rite is not only supposed to be the first drive-thru but also the fastest one in the country!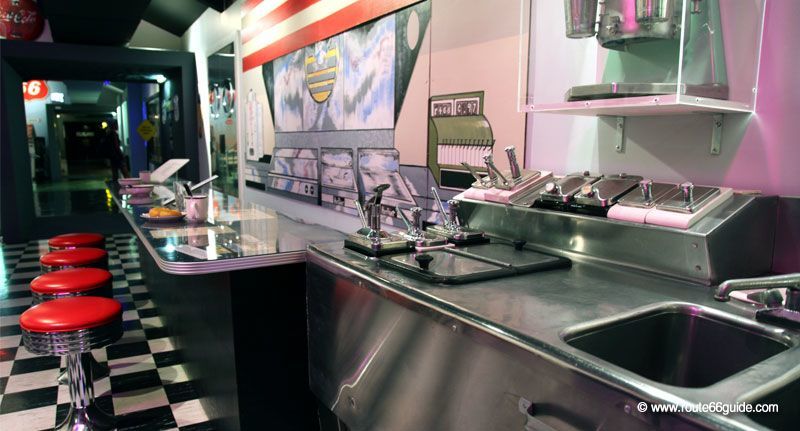 Above: Clinton, Oklahoma. Route 66 Museum. Reconstruction of a classic family diner as seen in the years 1940-1950 near Route 66.
The birth of fast food giants
As small family restaurants multiply, Route 66 becomes the cradle for future fast food giants, including the fast-food icon itself, McDonald's, which opened its first restaurant in a modest establishment in San Bernardino, California, along the transcontinental route (the restaurant no longer exists).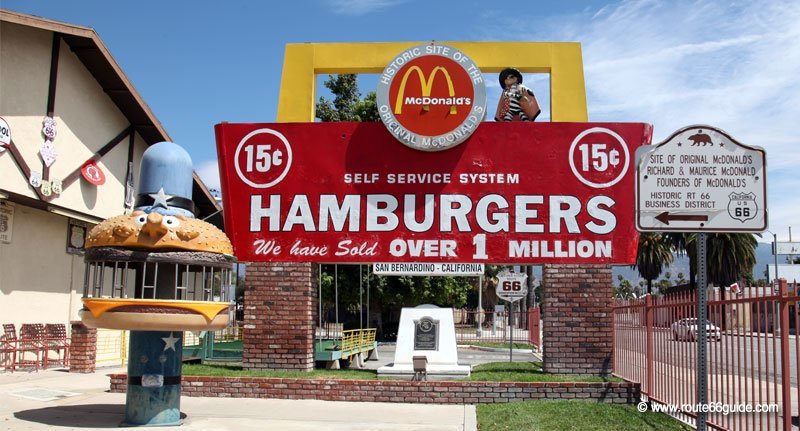 Above: The World's First McDonald's Restaurant in San Bernardino, California.
The chain rapidly expands and Route 66 sees the opening of what then was the largest McDonald's in the country, in Vinita, Oklahoma. The property, built in 1957, features a bold architecture, housed by a giant, glazed yellow arch spanning the Interstate.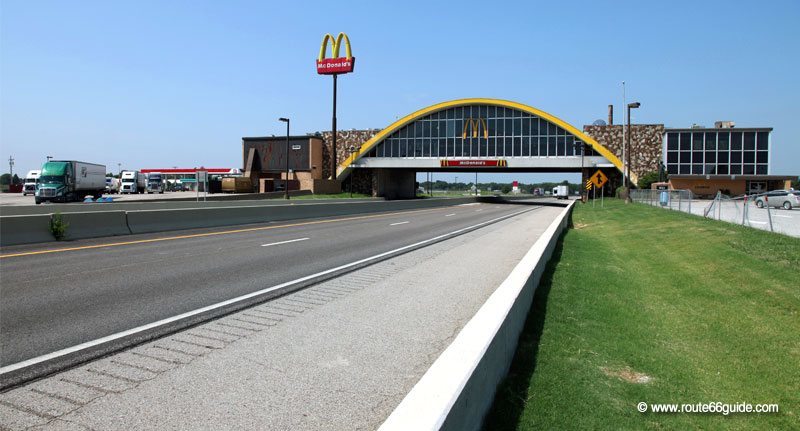 Above: Vinita, Oklahoma. Former largest McDonald's in the States (1957).
Independent restaurants however do not give up and fight giants on their own ground. In Villa Ridge, Missouri, the "Diamonds Restaurant" becomes, as of its 1969 opening, the largest roadside restaurant in the world. On its heyday, it served over a million customers a year. Unfortunately, ambition did not save it from decay and today, only remain its ruins and a panel, as huge as the restaurant it announced, aground on the oversized parking lot.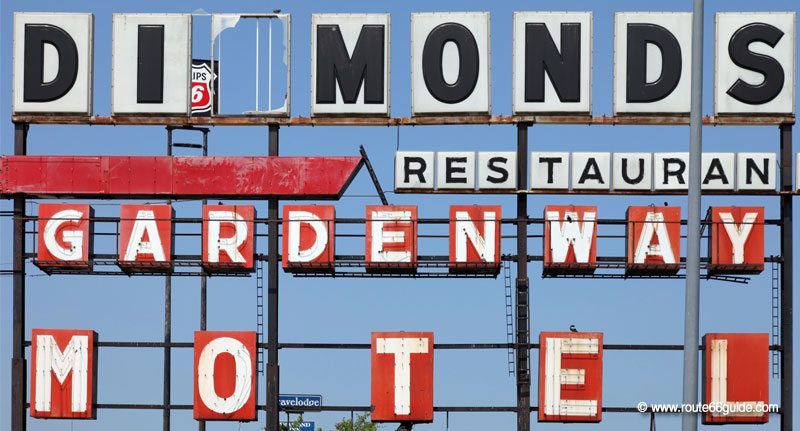 Above: Villa Ridge, Missouri. Diamonds Restaurant sign (and Gardenway Motel, still in business)
Other smaller establishments also attempt to expand and start their own restaurant chains, some with success. A case in point is the fast food chain "Ku Ku Burger" and its cuckoo bird, a welcoming icon for restaurant visitors. Even if "Ku Ku Burger" knew their heyday, it failed to survive the big chains. Nowadays, only one "Ku Ku Burger" remains in Miami, Oklahoma (not to be confused with Miami, Florida). Near Route 66, it continues to serve its customers in an old, authentic and really cheap fast-food style.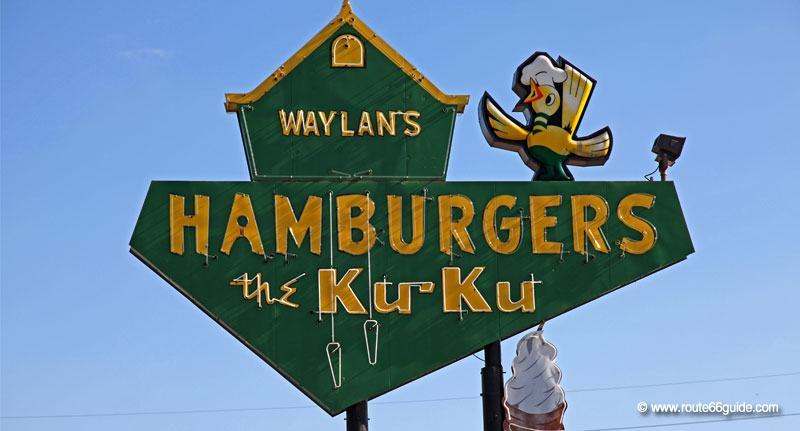 Above: Miami, Oklahoma. Waylan's Ku-Ku Burgers.
Today, few restaurants have survived Route 66's decommissioning. Many of the remaining independent establishments have become icons; for example, Cuba, Missouri, is home to the beautiful "Missouri Hickory Bar BQ" and its smoked meat specialties (best of the Ozarks as its slogan reads), served in a refined and sophisticated saloon décor ...restrooms included! One of our top choices.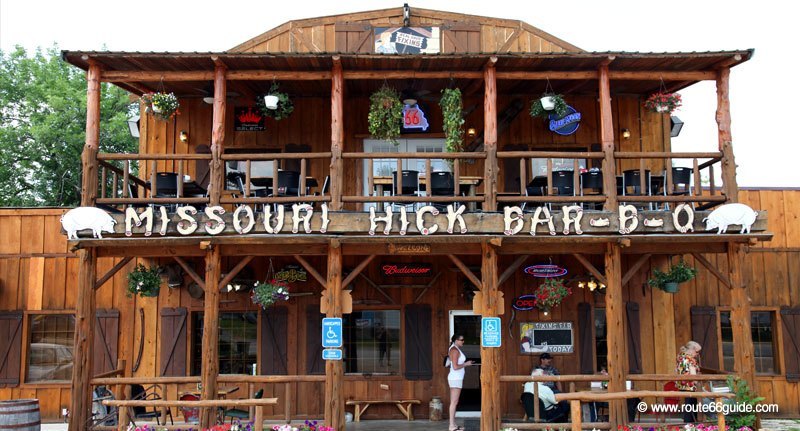 Above: Cuba, Missouri. Missouri Hick Bar BQ.
The survival of these institutions, independent and often family-owned, depends also and primarily on tourists traveling along Route 66. As you travel down the road, keep this in mind and favor these small establishments, full of marvelous and amazing local specialties, over fast food chains with their homogeneous and sterile taste.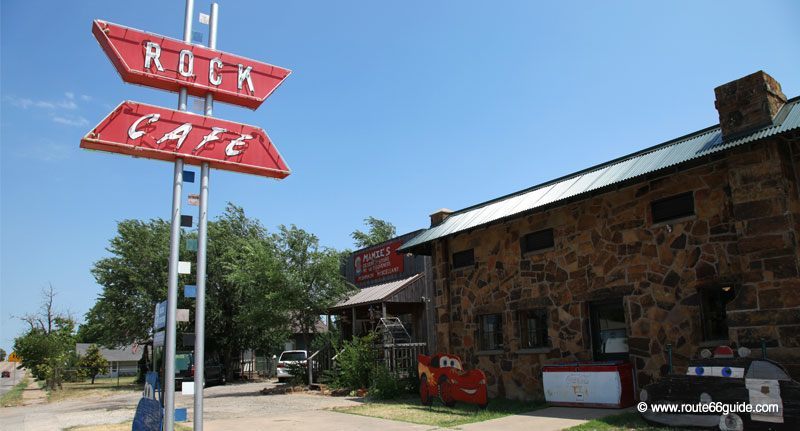 Above: Stroud, Oklahoma. The "Rock Cafe" was built in 1939 with stones used in the construction of Route 66. After a disastrous fire, it was rebuilt in its original spirit in 2008. It is listed on the National Register of Historic Places.