Route 66: A Feat of
Civil Engineering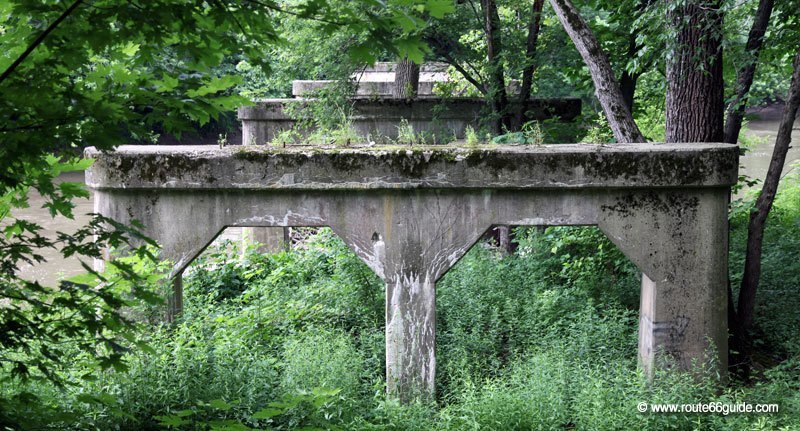 Above: Salt Creek Ghost Bridge in Lincoln, Illinois.
To sneak between mountains, over lakes and rivers, and through desert and forests, Route 66 engineers had to demonstrate inventiveness.
All sorts of bridges span the "Mother of Roads". Some are real works of art, including the three innovative and refined "Rainbow Bridges", of which only one is still standing, west of Riverton, Kansas. While restored, it is still closed to traffic.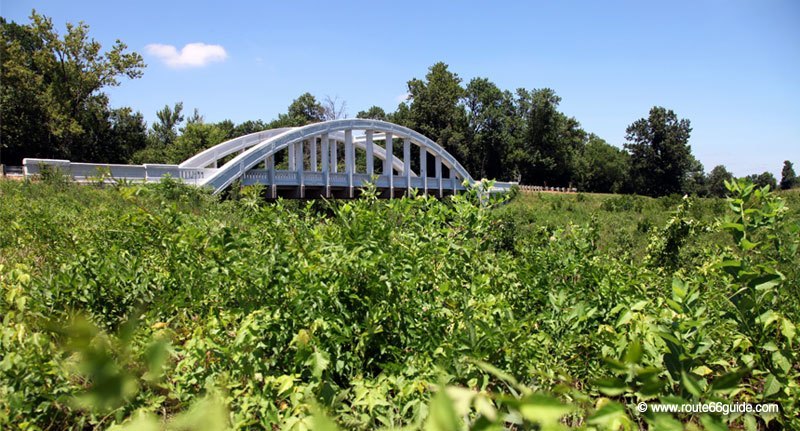 Above: Marsh Arch Bridge (or Rainbow Bridge). Riverton, Kansas.
From Illinois, to span the giant Mississippi River, Route 66 follows the iconic bridge "Chain of Rocks Bridge", which slightly turns over the river before entering the city of St. Louis and the State of Missouri.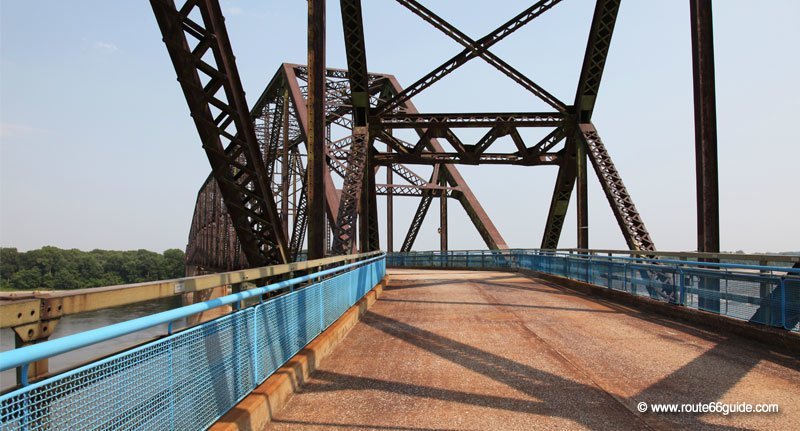 Above: Chain of Rocks Bridge. Between Madison, Illinois and St. Louis, Missouri.
Abandoned as Route 66, the "Chain of Rocks" bridge now welcomes pedestrians and cyclists while car traffic is diverted towards "McKinley Bridge", a bridge among the most recent Route alignments and that will lead us to the door of St. Louis, beyond the borders of Missouri, at the foot of the arch of the west, the "Gateway Arch", a true American icon.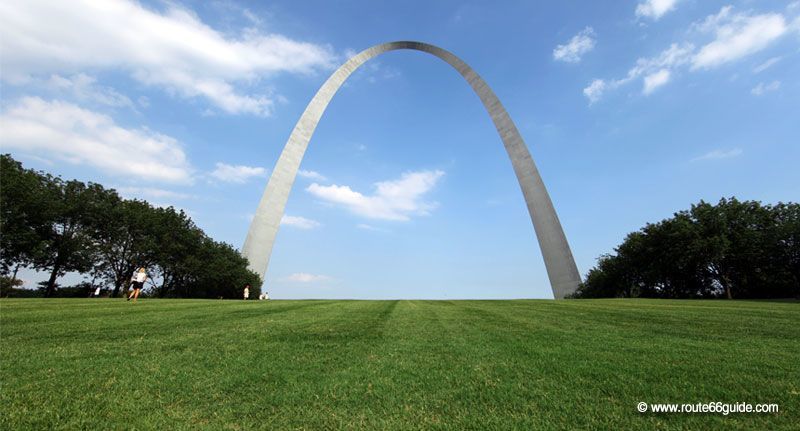 Above: The Gateway Arch in St. Louis, Missouri.
The challenges of
Civil Engineering
If high rocks bar the way, the mountain is blasted as in Missouri, between Rolla and Waynesville, where the deep tear - named "Hooker Cut" - of over 90 ft. high opened between 1941 and 1945 to let the four-lane Route 66 through. Today, while still open to traffic, it is usually deserted.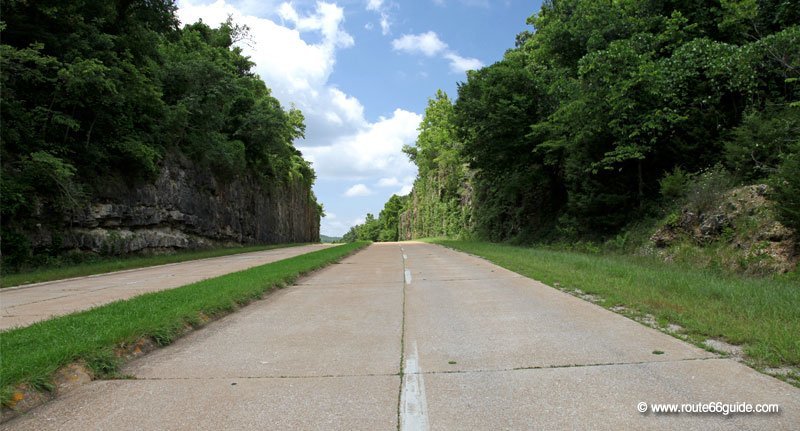 Above: Hooker Cut the in the background, between Waynesville and Rolla, Missouri. In the foreground, the 4 lanes now deserted of Route 66 - although still open to traffic - remain very bucolic, cracked by time and separated by a charming strip of grass.
After the plains of Illinois, Missouri and Texas, high altitude ranges, some over 13,000 ft., dominate the landscape.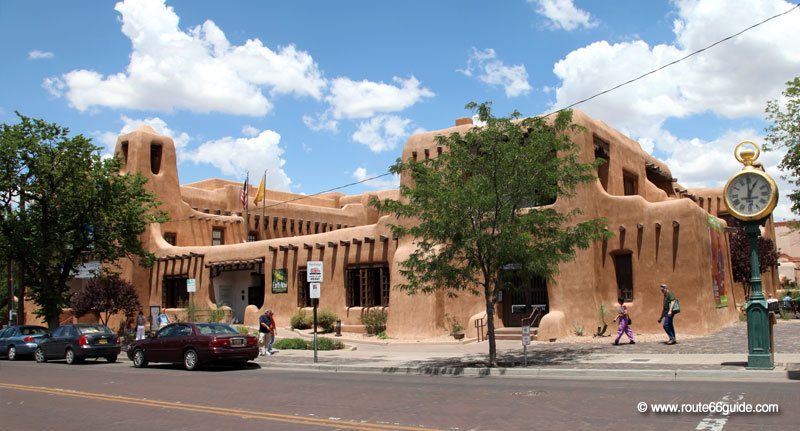 Above: The small town of Santa Fe, New Mexico is perched at 7,260 ft. (2,134 m.) above sea level. It is located on the oldest alignment of Route 66. Travelers, however, would rather follow the most recent segment and avoid this pretty town in Spanish pueblo style, which had the bright idea of ​​banning tall buildings.
Between New Mexico, where reliefs make certain road segments particularly breathtaking and challenging, and California, Route 66 goes through passes covered by snow throughout the year and so high one might touch the clouds. In winter, many of them become impassable and closed to traffic.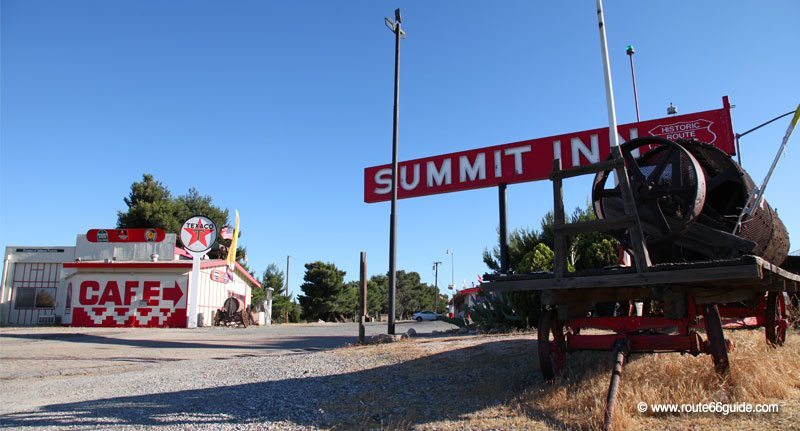 Above: In California, the "Cajon Pass" between Barstow and Los Angeles sits at 3,777 ft. (1,151 m.). On its summit stands the amazing "Old Outpost Cafe, The Summit Inn", located in an old Texaco station. Old cars, trucks, tractors are scattered all around, even on the roof!