When is the best time to travel
Route 66

?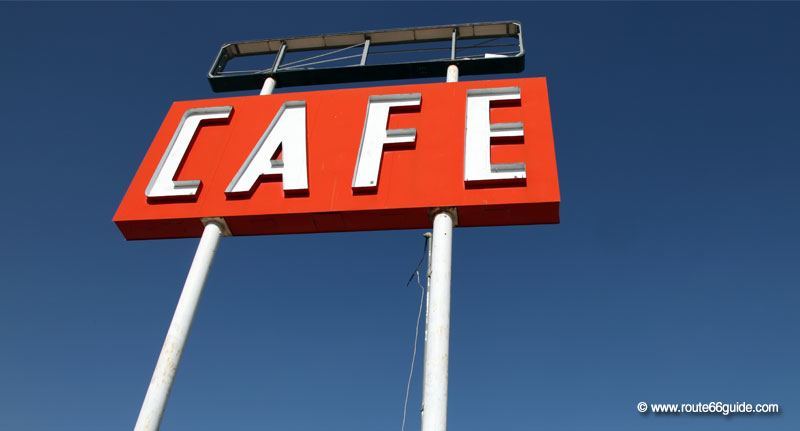 Above: Historic Route 66 in Adrian, Texas.
Ideally, choose your dates between late April and early July, and late August to late October.
Avoid July and August
July and August also are the major school breaks in the United States. Rates shoot through the roof and queues lengthen considerably.
On the other hand, certain regions become downright suffocating at this time of the year. Frequently, the thermometer sits above 105°F (40°C) - with the exception of the highland regions of Arizona, New Mexico, and western California, which remain pleasant throughout the summer. The eastern route, especially the States of Illinois, Missouri and Oklahoma, can be particularly wet.
Avoid winter
In winter, some road sections are simply impassable, especially various mountain passes in New Mexico, Arizona or California. In Chicago, the glacial wind rushes between skyscrapers and chills your blood; Missouri and Kansas shiver at -40°F (-40°C), whereas evenings and nights can be just as cold in the desert of Arizona. Incredible as it might seem... it snows in Texas!
On the other hand, off-season periods -such as the wintertime in certain areas - usually bring lower prices and steeper discounts. Regardless, many facilities and attractions on Route 66 simply close down from October to April. They sometimes display reduced hours or are open only on weekends.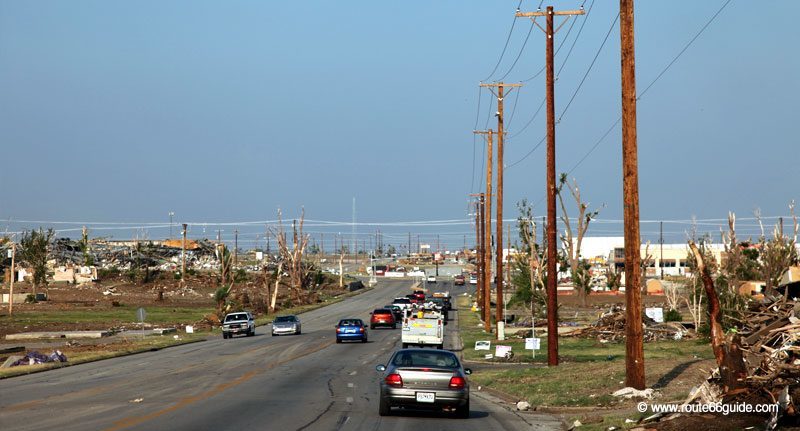 Above: Joplin, south of Missouri, on the border of Kansas and Oklahoma, after the murderous tornado devastated large residential areas in May 2011. 161 people were killed. The climate can be particularly extreme along Route 66. Not surprisingly, weather conditions were largely responsible for long construction delays on Route 66.
Illinois
Its humid continental climate is that of extremes. In winter, the thermometer sometimes falls to -36°F (-38°C) to flirt with 104°F (40°C) in the summertime and up to 115°F (46°C)!
Missouri
Up north, the climate is that of Illinois and becomes more temperate and humid south; summers are hot and extend softly into the fall. Beware of cold winters.
Kansas
Here, the climate is extreme: dust storms, hail, numerous thunderstorms, floods punctuating long periods of drought, etc. In summer, the temperature hovers around 86°F (30°C) to dramatically drop to -40°F (-40°C) come winter.
Oklahoma
Extreme climate not unlike that of Kansas. Its endless plains are regularly devastated by tornadoes, sometimes of deadly force.
Texas
This enormous state offers an ample climatic range, from subtropical and desert-like in the south to a more continental climate up north. Route 66 crosses its north, a region, aptly nicknamed "Panhandle", famous for its very hot summers but also dead cold winters.
New Mexico
At the foot of the mountains, the climate remains usually pleasant throughout the summer, despite some peaks over 104°F (40°C). In winter, you can ski on the numerous mountains ranges.
Arizona
Its semi-arid climate delivers suffocating summers but rather pleasant daylight temperatures in the wintertime. Beware of cold winter evenings. In the mountains, the lush vegetation and coniferous forests lining Route 66 come as a pleasant surprise. Rain showers may be short but pouring between July and September.
California
On the California coast, the climate is mild and temperate throughout the year, ranging between 64°F (18°C) and (25°C), slightly lower in the winter. Highland areas show a broader temperature range and winters can be particularly harsh. Some Route 66 passes become impassable under a thick snow mantle.