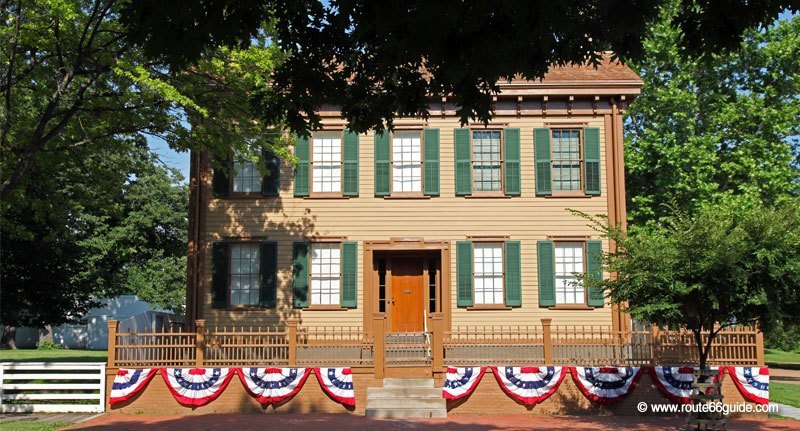 Above: Abraham Lincoln's home in Springfield, Illinois.
In each of the eight states traversed by Route 66, one finds small - and seldom large - museums run by the regional Route 66 associations or by the parks department of the State concerned. Some states have several (two in Illinois, Missouri and Oklahoma).
These institutions, standing right on the Route they evoke, are usually free and shed light on interesting regional economic and human implications of this legendary road, but also on the devastating consequences of its decommissioning in the bordering communities.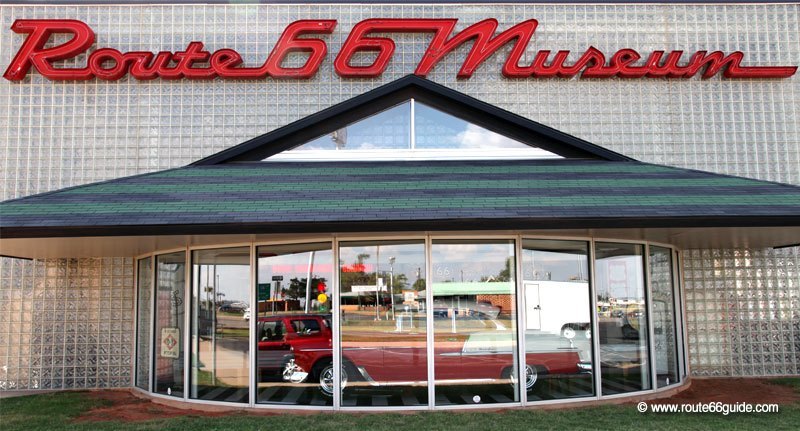 Above: Route 66 Museum in Clinton, Oklahoma.
Their interest and scenography vary greatly. There is a jumble of photos, historical newspaper articles, objects relating to motels, restaurants and other businesses along the old Route (keys, old menus, drive-in theater accessories, antique cars, neon signs, etc.).
Illinois: Joliet. Route 66 Experience
The Museum Association of Route 66 in Illinois welcomes visitors leaving Chicago, in the gradually deserted city of Jolliet. Here, you can feel the first effects of Route 66's decommissioning: a quiet, too quiet main street. Deserted sidewalks. Shops closed. Emblematic stillness.
At the entrance of town, the Museum "Route 66 Experience at Visitor Center" is devoted largely to the icons of Route 66 in Illinois; motels, restaurants/diners, gas stations, many of which appear magnificently restored, which is not surprising because the Illinois Route 66 Association is one of the most active and deserves our heartfelt appreciation.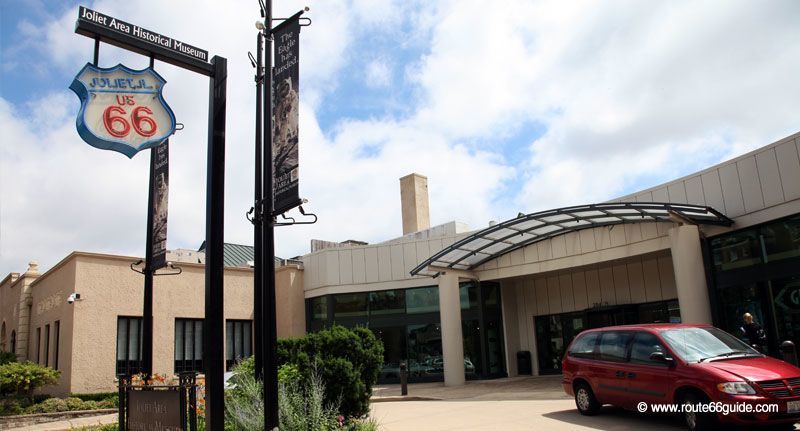 Above: Joliet Area Historical Museum, Illinois.
Close-up on the brand name "Dairy Queen", the queen of ice cream, which has now diversified into more traditional fast food; a huge US chain which is however little known across the Atlantic.
At the entrance of the museum, a giant Route 66 map traces its route through eight states; it is staggering too realize we still have 4,000 kilometers ahead of us!
Free admission.
Illinois, Pontiac Route 66 Hall of Fame Museum
As the second museum dedicated to Route 66 in Illinois, it is devoted not only to its home state but also portrays a variety of personalities that shaped the history of the transcontinental route along its entire path from Chicago to Los Angeles.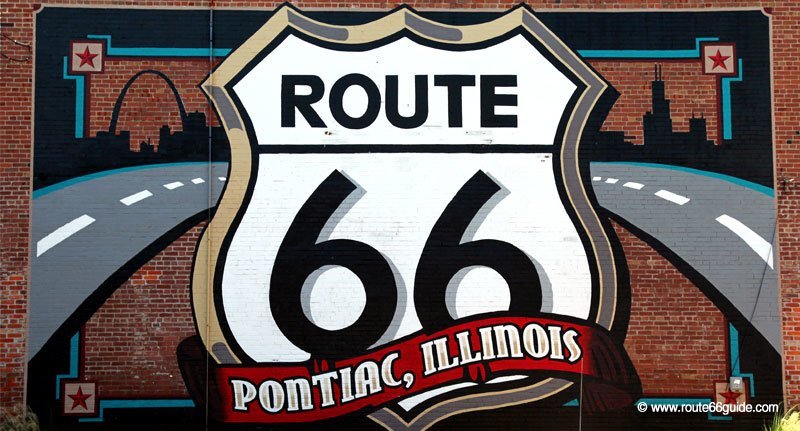 Above: The "Route 66 Hall of Fame" of Pontiac, Illinois seen from the outside. In the city of Murals (about twenty of them on Pontiac buildings), the museum is no exception to the rule and features a huge mural honoring the Mother Road.
Being inducted into Route 66's "Hall of Fame" is a honor and represents a recognized distinction even today.
Missouri, Eureka: Route 66 State Park Visitor Center
Managed by the state parks department of Missouri, this small museum devotes a large part of its permanent exhibition to the community of Times Beach, which stood here before being abandoned due to a major dioxin contamination. Moreover, it presents some mythical institutions that have marked the history of Route 66 and a few sights not to be missed along Route 66 in Missouri.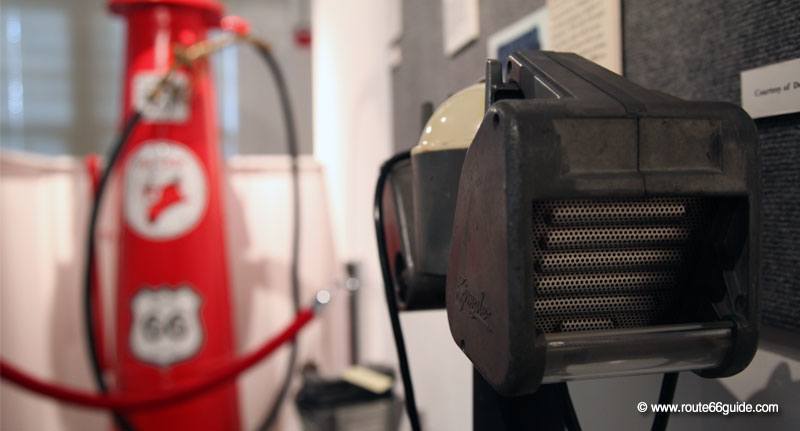 Above: In one of the exhibition halls of the Route 66 Museum in Eureka, Missouri, you can manipulate the portable speakers that motorists clung to their windows in drive-in theatres. Missouri has a superbly restored drive-in theatre in Carthage.
The museum is located in an old roadhouse dating back to 1935, the old "Bridgehead Inn" that welcomed Route 66 travelers.
Free admission.
Missouri, Lebanon: Route 66 Museum
Located in the same building as the Public Library of the small town of Lebanon, the pleasant "Route 66 Museum" displays various reconstructions of emblematic decorations seen in the heyday of Route 66 (1950-1970).
Thus, we walk into an old motel room as set in 1946 at the legendary "Munger Moss Motel", Route 66's landmark hotel also located in Lebanon.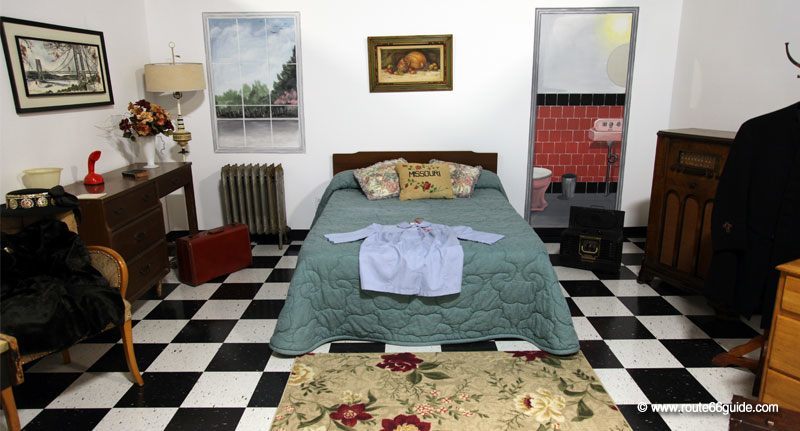 Above: Reconstruction of a motel room of the years 1940-1950 at the "Route 66 Museum" of Lebanon, Missouri. Most items are original.
Further, a restaurant -diner of the 1950's, with its formica benches arranged around a chromed counter and a gleaming jukebox. Then, a soda fountain and a multitude of photos, press clippings, items related to the Mother Road in the State of Missouri. Many close-ups of the flagship institutions of Lebanon and its surroundings, of which few have regrettably been preserved.
Free admission.
Kansas, Baxter Springs: Route 66 Visitor Center
In Kansas, only three - very small - localities are crossed by Route 66. Nevertheless, the local Route 66 Association is very active and runs this small museum in the center of Baxter Springs, right by a real Philips 66 station of the 1930s. It provides various informations on Route 66 attractions in Kansas.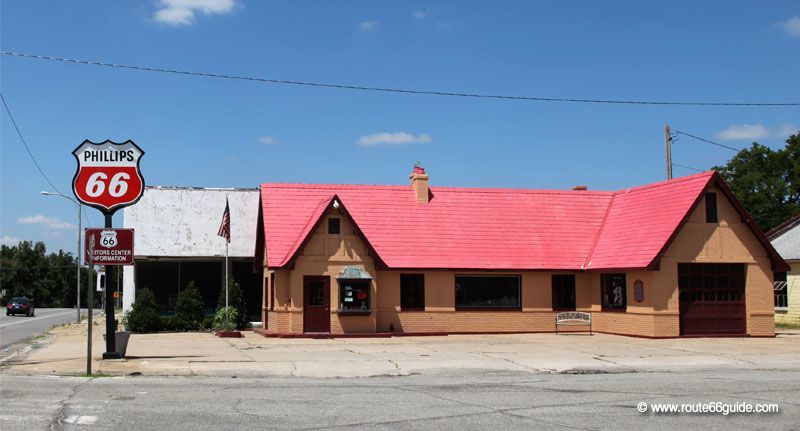 Above: The "Route 66 Visitor Center" of Kansas is housed in a beautiful "Philips 66" service station. It chalet-cottage style was widespread along the transcontinental route.
Oklahoma Chandler: Route 66 Interpretive Center
The Route 66 Association in Oklahoma runs this original museum, created thanks to donations and financing of the local population of Chandler. Resolutely modern, the Interpretive Center runs several documentaries, interviews, and archival footage that we enjoy sitting back in the upholstered seats of an old car or lying on a motel bed replica (not a top mattress to be honest... ).
Above: At the Route 66 Interpretive Center in Chandler, Oklahoma, comfortably installed on car seats or lying on a motel bed, we enjoyed several Route 66 video clips.
Oklahoma, Clinton: Route 66 Museum
The unanimous opinion is that this is the best museum along Route 66. Indeed, we really enjoyed our walk through the showrooms, moving forward in time through a series of thematic reconstructions (garage, restaurant dinner etc.) to the sound of the musical standards, activated by the visitor on entering each showroom.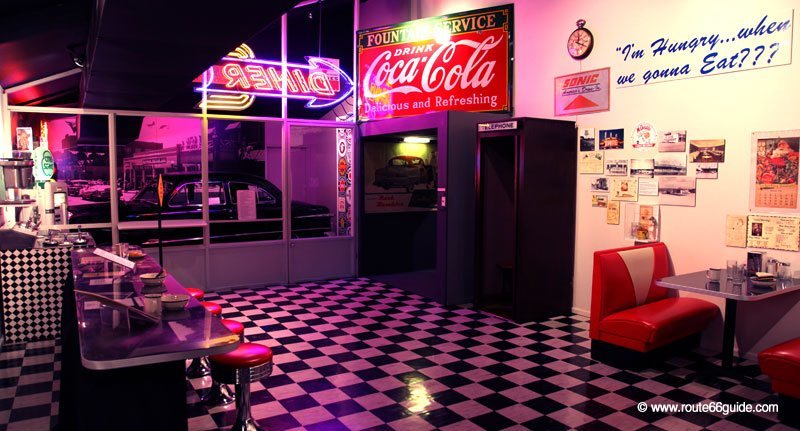 Above: Route 66 Museum in Clinton, Oklahoma, reconstruction of a typical family dinner of the 1950s with its checkered black and white floor, chrome bar, colorful banquettes and jukebox.
Unlike most other museums on Route 66, the one in Clinton provides a broader picture, covering all eight states on its path.
Thus, we can review ample and very specific information on the difficult road construction but also on those who lived in its vicinity, merchants, residents but also unexpected close-ups for example of local firefighters, who ensured the safety of the road, increasingly dangerous and deadly as traffic increased over the years
Texas, McLean: Texas Route 66 Museum
The Museum of the Route 66 Association in Texas is located in the same premises as the Devil's Rope Museum, the museum of barbed wire whose importance in the expansion of cattle ranching in Texas can hardly be underestimated.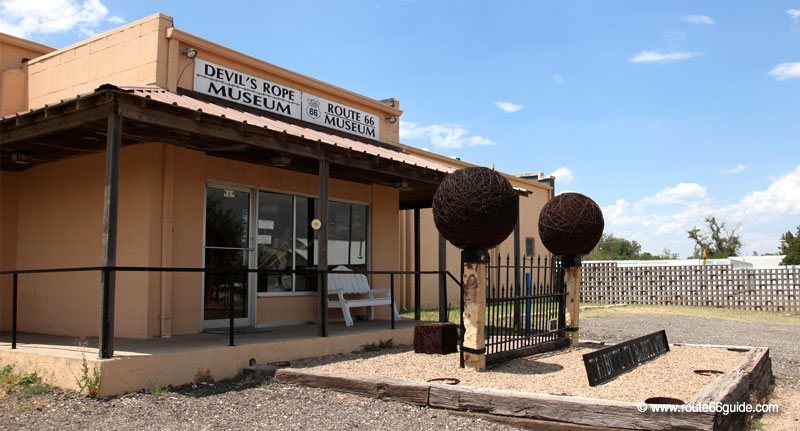 Above: Route 66 Museum (Devil's Rope Museum) in McLean, Texas.
California, Barstow: Route 66 Mother Road Museum
In the mountains of Barstow, California, a small museum of the Mother Road hosted by the Route 66 Association in California presents major attractions and mythical establishments along the transcontinental route in the state. Several artifacts, including old cars, an old gas pump, and a police motorcycle. Photos, newspaper clippings, billboards, souvenir shop, etc.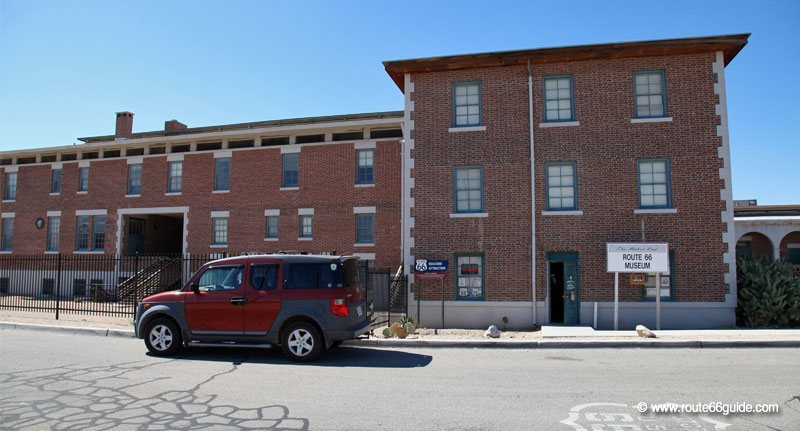 Above: Route 66 Mother Road Museum in Barstow, California.