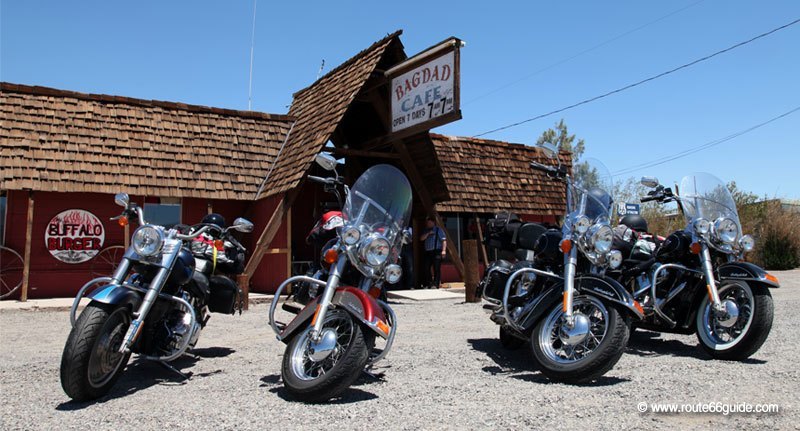 Above: Harley-Davidson motorcycles in front of Bagdad Cafe, Newberry Springs (California).
The legendary American manufacturer Harley-Davidson was born in the early 20th century in Wisconsin, Milwaukee. Not far from Chicago, as this legendary route for which it seems naturally intended. Since then, Harley-Davidson brought together a large circle of insiders, passionate for the style, technology and iconic sound of these machines from a different era.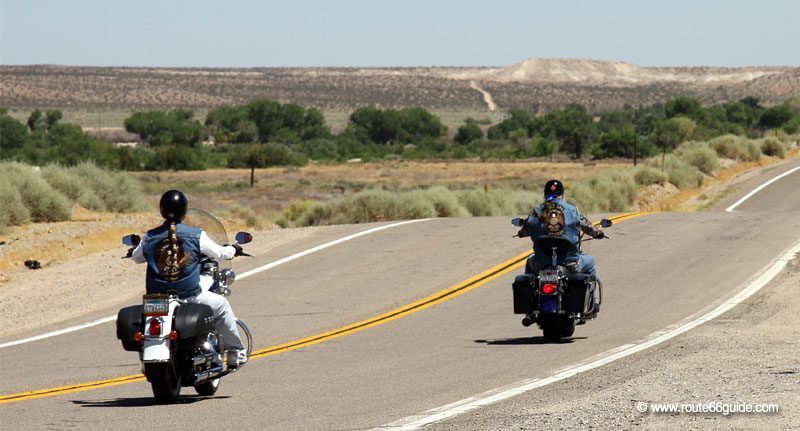 Above: Bikers on Route 66 in California.
True icons of Route 66, you will surely drive by numerous bikers, alone or in groups, riding the road to enjoy the intense feeling of freedom, wind in their hair - helmets are not always mandatory in the USA, see below - on the worn and cracked asphalt of the most mythical transcontinental route.
Rent a Harley-Davidson in the U.S.
To rent a Harley-Davidson motorcycle in the United States you must be at least 21 years old and hold a valid motorcycle license. It is advisable to be a large motorcycle rider - or at least be familiar with its main physical and technical features.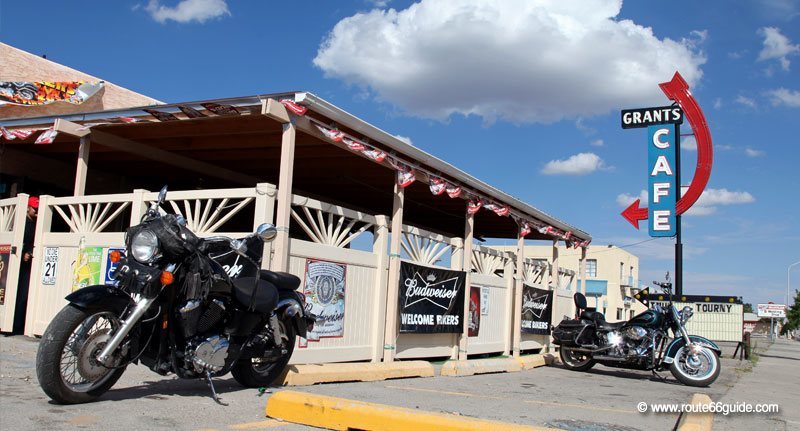 Above: Grants Cafe. Grants, New Mexico.
As you might suspect, there are numerous Harley-Davidson authorized rental companies, especially along Route 66. They are listed here. These rental outlets offer the latest models including VRSC, Doftail, Dyna Glide, Sportster, etc. All authorized companies regularly review their models to meet the standards of the Harley-Davidson Motor Company.
Rental rates
Allocate between $ 130 and $ 160 per day and do not hesitate to compare prices at various rental companies, which, although federated, enjoy rate-fixing freedom.
The rental payment includes emergency roadside assistance, a helmet, and a waterproof suit. Even if wearing a helmet is not mandatory in all U.S. States, authorized Harley-Davidson agencies will contractually require their customers to wear one at all times (see below).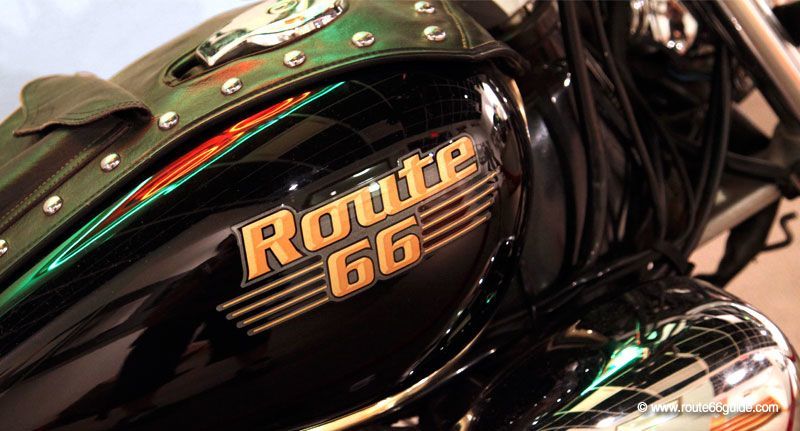 Above: Yamaha Route 66 Edition Motorcycle.
Guided tours
You may find numerous organized Harley-Davidson outings, alone or in groups of up to ten bikers (especially in the Los Angeles area). They usually include accommodation although rarely food.
Helmet
Wearing a helmet is compulsory in twenty states. Among those allowing it, many pose conditions (minimum age, years of experience, insurance underwriting additional expensive, etc.). In three states, there is neither a law nor any restrictions regarding helmets: Colorado, Iowa and Illinois.
The majority of states traversed by Route 66 (4 out of 8) require a helmet for riders aged under 18 (Oklahoma, Kansas, New Mexico, Arizona).
Warning: authorized Harley-Davidson rental offices have all their customers (drivers and passengers) sign an agreement requiring them to wear a helmet for the rental duration, including in states where the use of helmet is not mandatory. Helmets are included in the rental rate. Helmets of "Novelty" or "Beanie" types are not approved.
Laws in the eight states on Route 66's path
Illinois:
No helmet required, no strings attached.
Oklahoma, Kansas, New Mexico, Arizona:
Helmet required for those under 18.
Texas:
Helmet required for those under 21. Experienced bikers traveling without a helmet are required to purchase additional insurance of $ 10,000 to cover medical expenses.
Missouri, California:
Helmet required.
Warning: Laws may have changed since this information was compiled.