Route 66: movies and TV series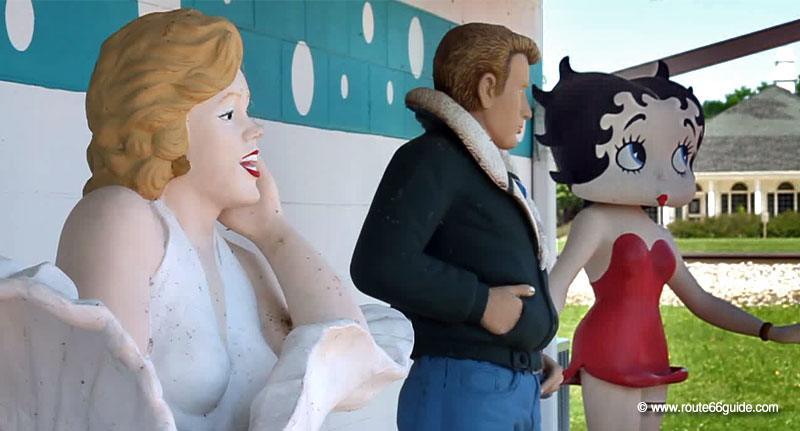 Above: Polk-a-Dot Drive In. Braidwood, Illinois.
"The Grapes of Wrath" by John Ford based on John Steinbeck's novel (1940). During the Great Depression, Route 66 sees thousands of poor workers from Oklahoma travelling west in search of a better life.
"Easy Rider" Peter Fonda, Dennis Hopper and Terry Southern (1969). Two biker-hippies roam the southern United States and present a subversive portrayal of America at that time. The film was shot along Route 66.
"Thelma & Louise" by Ridley Scott (1991). Between Arkansas and Arizona, weekend girlfriends Thelma and Louise get out of control on a bloody and ill-fated escape.
"Bagdad Cafe" ("Out of Rosenheim") by Percy Adlon (1987). At the heart of the California desert, the weary Bagdad Cafe, its motel and service station welcome travelers, backpackers, and a whole cast of original characters, direct on Route 66. One day, a strange German woman magically appears to change everything.
"Cars" by John Lasseter and Joe Ranft (2006). Lightning McQueen, a race car with a promising career disappears on old Route 66 without a trace. At first full of contempt, it will take a liking to the mixed characters populating the small deserted town of "Radiator Springs", which is struggling to survive the decommissioning of the transcontinental route.
"Paris, Texas" by Wim Wenders (1984). A man that everyone thought dead for several years appears walking alone out of the desert. He has only one thing in mind: returning to Paris.
"Little Miss Sunshine" by Jonathan Dayton and Valerie Faris (2006). Burlesque and atypical family travelling on an off-age van between New Mexico and California to lead seven years Olive to a beauty pageant finals.
"Route 66", CBS television series (1960-1964). In its heyday, Route 66 inspired this series on CBS that features two characters along the mythical route. It run for 120 episodes.